The TunnelBear VPN: Pawsitively Powerful
I could bear-ly contain my excitement when finding a VPN that actually operated exactly the way I wanted.  Tunnelbear is adorable and powerful.  A true grizzly of the VPN world.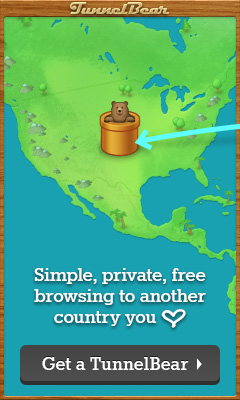 What's a VPN?  
VPN stands for Virtual Private Network.  You want one of these for a multitude of reasons not limited to internet freedom.
The pluses of using a VPN include hiding your IP address and location, using websites from other regions (i.e. you're living abroad and want to use your Swagbucks account unimpeded by region), and data security.  If fishing websites can't track you, they can't hack into your accounts as easily as if your trail of breadcrumbs was visible.
Tunnelbear is not like other VPNs that I have tried before.
Note that integrating it into your browser does not make it a true VPN until you download it.  In Chrome, Tunnelbear is more like a really awesome proxy service that can be switched on and off from the extensions tab.  Upon installation (2 minutes tops), not only does the program tunnel you to the location of your choice, it does so without interrupting your connection.  I have seen no negative consequences on bandwidth or accessibility.  Tunnelbear truly unlocks the internet without irritating your firewall or causing a ruckus with your anti-virus.
The packages: 
Little Bear = Free
500 mb of free data every month
(You can tweet/promote for more data.  I'm currently running with about 750 mb and doing great)
Giant = $6.99/month
Unlimited data that is paid into monthly
Grizzly = $49.99/yearly ($4.16/month)
Unlimited data, pay yearly


With any method, you can add up to 5 devices on the same account.  You also get 24 hour support.
Your Tunnelbear not only features instant connection, you have a simplistic design that boasts functionality.  As the website says, "so simple a bear can do it."  Your internet connection is also encrypted for free, and your bear will protect your data even when you hit walls or insecure networks.  What I find a wonderful component of this service is the "Ghostbear." Countries and their governments can be quite the hindrance.  China, for example, bars its citizens from regions of the internet.  However, with the Ghostbear ability, you can invisibly float through those walls to get to what you seek.
Tunnelbear has given me access to websites that I had restricted access to, like Slicethepie and Swagbucks.  I hated not being able to get into my accounts and claim rewards or whatnot.  Now I can do that again, and I feel like I'm totally back in business.
Right now, I see no cons with Tunnelbear.  If you are a Little Bear, remember to turn off your data when you don't need it, as it will deplete rapidly during roaming excursions.  I believe that your data is also shared between devices, so if you connect multiple ones, remember to only have the application working on what you're presently using.  500 mb gets drained rapidly when streaming video or music.  It'll last you about 40-45 minutes.  So bear that in mind.
But there is a promotion going on.  Tweet @tunnelbear asking for 1GB of data with as many bear-related puns as possible and you will receive extra data for free.
Other than that, the program is a veritable honey pot.  Dive in and enjoy a smackeral or two of the internet.  Download or add the extension today!
All the best.